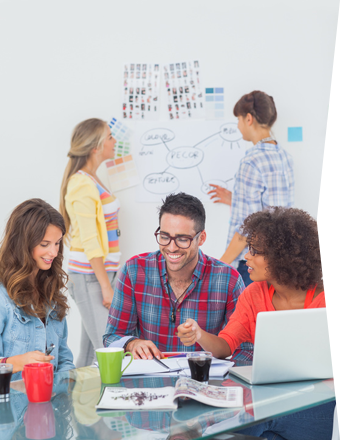 Children, teens and adults
| Group size | Price |
| --- | --- |
| 4-5 people | 10 |
| 3 people | 13.5 |
All the above prices are in EUR/hour/person.
Extra-curricular and in-company
| Extra-curricular | In-company |
| --- | --- |
| 40 (màx. 8 students) | 40 (màx. 5 students) |
The prices for extra-curricular and in-company lessons are in EUR/hour/group.
Children (1-6 years old)

Baby-sitting: fun educational activities and continuous interaction. Introduce your child to the new language in a natural and entertaining way!

Children (7-12 years old)

Lessons delivered through interactive activities designed to help children develop their spoken English while reinforcing all the other language skills.

Teens and young adults

Lessons delivered through a range of fun activities (videos, games, debates, discussions) designed specifically for teens to let them build their speaking confidence and improve all the other aspects of their English.

Lessons delivered through the Intuniti language-learning program which is based on immediate application of the new grammar and vocabulary in speaking practice and personal involvement through questions and conversations.

Adults (beginner and elementary)

General English lessons based on the Intuniti language-learning program supplemented with custom activities to cover your company's special needs. Assistance with business correspondence, presentations, interviews etc.

Companies

Lessons delivered through the Intuniti program to help you develop fluency, get rid of common mistakes, pick up new grammar and increase your active vocabulary.

Adults (intermediate and advanced)
Bilingual/multilingual teachers who are experts in both language learning and teaching.

Teaching you HOW to learn a foreign language besides the language, so that on completing the Intuniti program you can continue studying on your own.

Extra material for self-study to help you create an "immersion" experience at home.

Individual study tips for each student.